The 6 Best Acoustic Panels for your Home Studio
By Gregory A Seely ~ Updated 18 November 2021
As an Amazon Associate I earn from qualifying purchases
A home studio is only as good as its acoustic treatment.
Anyone who produces music will agree that having good quality acoustic panels in your studio will make a world of difference for your mixes. They stop unwanted reverb and echoes so you can hear an accurate depiction of your mix.
With so many options on the market, choosing the right acoustic panel can be a daunting task. Fortunately, we've done the research and want to share what we found were the six best acoustic panels for your home studio.
As good as acoustic panels are for cutting out sound reverberation, if you're walls are lacking proper insulation, your acoustic panels wont help much. If you have a 100-year-old home, you might want to consider our fiberglass insulation for soundproofing guide.
The Best Shape For Acoustic Foam
Let's get started with the shape of the acoustic foam first. Each profile will be a determining factor in how it absorbs sound and the thickness of each panel. Let's go over the pros and cons of the three common shapes:
Wedge
Pros:
Excellent all-around option
Looks edgy
Easy to find
Cons:
Lacks the ability to control the direction of the sound
Not the best choice for large studios
Pyramid
Pros:
Dependable in any size of studio
Enhances sound quality
Reduces bass sounds very well
Easy to find
Cons:
It doesn't block overall sound as well as other shapes
They only work if panels are placed correctly
Smooth
Pros
It can be made into a visually appealing shape or have a decorative surface.
Cons
Foam panels with no difference in profile height aren't nearly as effective at absorbing or blocking sound.
The Best Acoustic Panels For Your Home Studio
1. JBER 12 Pack Acoustic Foam Panels
The JBER acoustic foam panels are ideal for spot-treating walls in a small studio, and they come at a great price point!
Each pack comes with 12 one-square-foot tiles with one-inch thick wedges. The tiles are consistent in their density and firmness, which reduces reverb, echoes and unwanted acoustic reflections.
You'll notice a difference in the quality of your audio recordings right away; there's less background noise from outside your studio and from the echoes within.
Features
12 Pack
Three color options
Sound absorbent
Wedge-shaped
Easy to shape and cut
We Like
Good value for money
Effectively dampens echos in a small studio
They come vacuum-sealed in a small box
We Don't Like
It takes about 24-48 hours to expand to full shape
They don't come with adhesive for hanging them
A little thinner than expected
2. Acoustic Foam Panel Wedge Studio
These acoustic foam panels are perfect for small to medium recording studios. Use them in your vocal booth to absorb mid to high frequencies and improve vocal clarity.
Each square foot tile is made up of a foam wedge pattern. It's very effective at absorbing sound and reducing echoes, giving your recordings a professional sound quality.
Beyond improving your mixes, the four-color choices are also great for adding some flair to the visual setup of your home studio.
Features
48 Pack
Four color choices
Wedge-shaped
Expands to shape in 6 – 12 hours
Absorbs mid-high ranged frequencies
We Like
Great at diffusing high frequencies
Appealing color choices
It helps remove unwanted echoes
We Don't Like
3M strips don't work for hanging
Closer to 3/4″ thick
Some buyers report edges being out of shape
3. TroyStudio Acoustic Studio Absorption Panels
The TroyStudio absorption panels stand out from the crowd with their innovative periodic groove structure. Research shows that the shape excels as an absorbing enhancer, allowing the foam to reach an NCR rating of 0.75.
The panels can be used for multiple purposes within your home studio. They control reverb, dampen echoes and standing waves, improves sound clarity, and reduces unwanted noise.
They come compressed to save space and are easy to set up using spray adhesive or 3M strips.
Features
Material: Polyurethane
Six pack
Three color options
Period groove structure
Sound absorbing
We Like
Removes high-frequency reflections
They look great
A great addition to any soundproofing project
We Don't Like
The strong chemical smell when first opened
Foam is thinner than it looks in some spots
Poor at blocking sound
4. DEKIRU Acoustic Pads
If style is what you're going for then, the DEKIRU acoustic pads are for you. The unique hexagon shape will look great in any home studio without sacrificing quality absorption.
The pads are made from 100% polyester fiber with an NRC of 0.92, making them ideal for dampening unwanted sounds and echoes in your studio. The material is also flame retardant, odorless, and safe for anyone in the family to handle.
Features
100% Polyester fiber
12 pack
Four color choices
Hexagon shapes
Dampens sounds
We Like
Mix and match colors to create aesthetically pleasing designs
Reduces unwanted reverb
Absorbs mid-range frequencies
We Don't Like
They don't work well with adhesive
Aren't the same size across all colors
Pricer than some for limited sound-blocking capabilities
5. Acoustic Foam Mushroom Panels
At 50/lbs per cubic yard and 2 inches thick, you're unlikely to find a panel that's better at absorbing echoes and reverb at this price. The 3D mushroom is designed to break up sound waves and reduce the overall amount of noise reflecting around your studio.
The polyurethane foam is non-toxic, eco-friendly, and flame retardant, so you can add them to your studio without worrying about VOCs or being a fire hazard.
Use these panels as spot treatments for your home studio and hear the improvement in your recordings and mixes.
Features
Material: Non-toxic polyurethane foam
12 or 48 pack
Nine color choices
Mushroom design
NRC: 0.92
We Like
Effective at controlling sound reflections
Tiles are two inches thick
Good quality for the price
We Don't Like
Hard to attach to the wall
They take a long time to decompress without using water
They don't come with adhesive
6. BUBOS Art Acoustic Panels
If the look of foam panels isn't the style you're going for, this is your solution. The BUBOS art acoustic panels will transform the look of your studio with a creative, modern design.
Beyond looking great, these panels control sound reverberation and reduce background noise and echoes. Meaning you can achieve high-quality recordings and get an accurate mix.
They are easily attached to the walls in your studio using double-sided foam tape. They are free from formaldehyde, binding agents, and other VOCs.
Features
Material: Eco-friendly polyurethane foam
Modern design with an elegant pattern
Multiple color and size options
B1 class flame retardent
NRC: 0.95
We Like
The choices of patterns
Lightweight and easy to install
Effective in the mid-upper range frequencies
We Don't Like
It's suggested you need multiple packs to block sound effectively
They don't come with adhesive
On the expensive side
The Best Affordable Acoustic Panels
Just because you can't or don't want to invest a lot into acoustically treating your home studio, that doesn't mean you're doomed to deal with echoes in your recordings.
If you're looking for the best bang for your buck, we recommend going with the 12 pack of JBER acoustic foam panels. They're among the highest-rated for budget-friendly acoustic treatments.
The Best Looking Acoustic Panels
If design and looks are your top priority, you won't be surprised that we recommend the BUBOS art acoustic panels.
They double as an art piece and bring life into your home studio while absorbing sound and reducing unwanted reverb.
Best Double-Sided Tape For Acoustic Foam
1. Command Strips
When it comes to hanging objects on your walls, Command Strips are usually the first name you hear. They're known for being strong and versatile, sticking to many different surfaces like drywall, wood, concrete, glass metal, etc.
But the top reason they've become so popular is that they don't damage your wall or leave any sticky adhesive behind. This feature makes it easy to move around your foam panels.
2. 3M Double Sided Adhesive Squares
Similar to Command Strips, the 3M double-sided adhesive squares are great for a wide variety of uses.
Made from EVA foam, these adhesive squares are waterproof and can withstand temperature changes without losing their ability to stick. You can cut them to any size you need, making them useful for small and large panels.
The Best Placement For Acoustic Panels
Knowing the best position to place your acoustic panels is going to vary between home studios. We've added this video to help you figure out the best placement.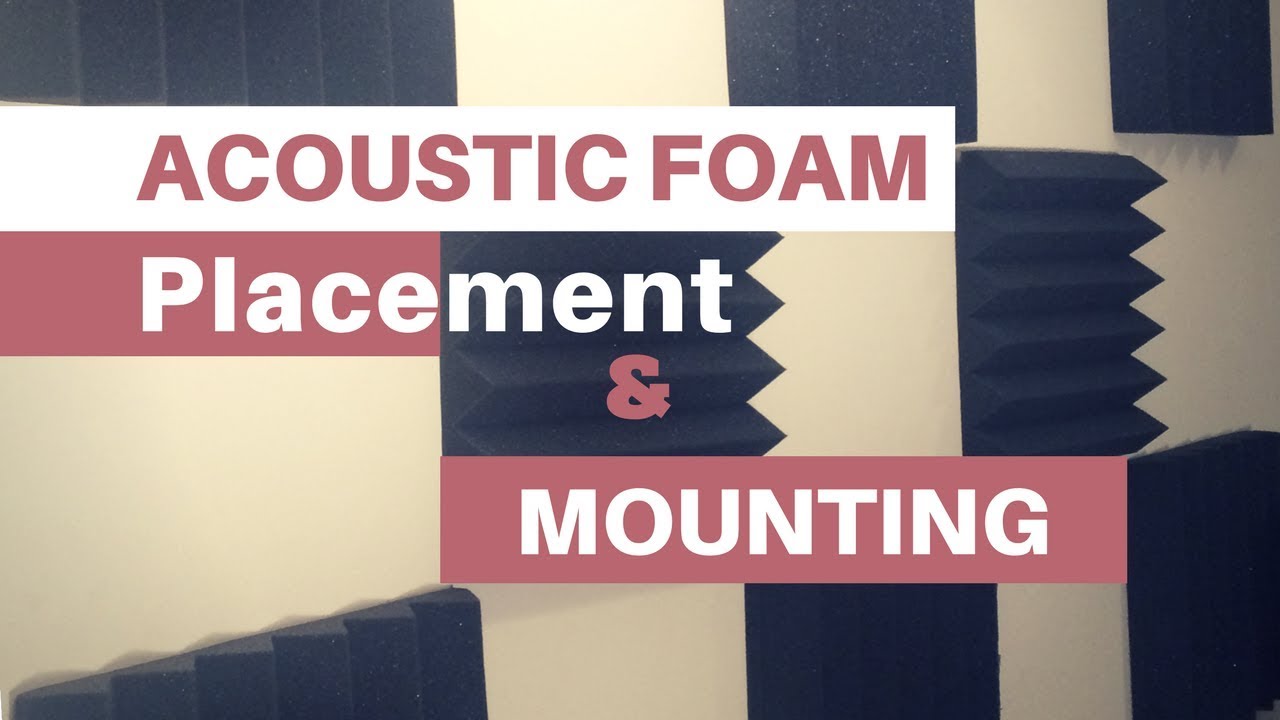 The Best Way To Put Up Acoustic Foam
Walls
There's plenty of different options for hanging acoustic foam on your walls. Some will work better than others depending on the surface and whether it's textured or smooth. We'll go over the tried and true methods so you can install them regardless of the kind of walls you have.
Drywall & Flat Surfaces
Double-Sided Adhesive
As we previously mentioned, double-sided adhesive strips or squares are the go-to options for hanging anything on your walls, acoustic foam included. It's a simple and easy process:
Mark where you want your foam panel to go.
Clean the surface with isopropyl or warm water.
Remove one side of the liner from four adhesive squares and attach them to each corner of the foam; hold for 30 seconds.
Remove the liners from the other side of the adhesive squares and mount the panel on the wall. Press firmly for another 30 seconds.
Spray Adhesive
Another popular method we see homeowners use to hang acoustic foam is using spray adhesive. We recommend only using it on drywall or other flat surfaces. Here's what to do:
Mark where you'd like the panel to go on your wall.
Clean the surface with isopropyl alcohol or warm water.
Protect the area around where you'll be spraying with cloths or plastic.
Apply a generous amount of spray adhesive to the back of your foam panel and a little to the wall.
Wait about 10-15 seconds, and then carefully place the foam in position on the wall.
Apply moderate to hard pressure to the foam for at least 30 seconds
Concrete
The previous methods used for drywall can be successful on concrete as well. But the effectiveness will come down to how smooth the concrete is and the type of adhesive you use. Command Strips and 3M products may not be strong enough to create a permanent bond, but we've seen better results using Gorilla mounting tape.
However, we found that heavy-duty liquid adhesive works the best when hanging acoustic foam on concrete.
Ceiling
The process for hanging acoustic panels on ceilings is the same as with the walls. It's much more common to have textured ceilings, though, leading to problems with the foam sticking long term. Luckily, we have an extra step you can try out.
Cardboard or Thin Plywood
Instead of attaching the foam panel directly to the ceiling, you'll first want to attach it to a piece of cardboard that's slightly smaller than the foam panel. This is best done using a spray adhesive.
Next, you'll want to attach the piece of cardboard to your ceiling using one of the previously mentioned methods:
3M adhesive squares
Gorilla mountain tape
Command strips
If your ceiling is too textured for those to stick to, the alternative option would be to use thin plywood instead of cardboard. Screw the plywood directly into your ceiling—either into a stud or using drywall anchors.
If you're trying to attach them into concrete and all other methods have failed. You can use the plywood method and drill directly into the concrete. You'll need a few more tools for this, but it's entirely possible with this handy guide.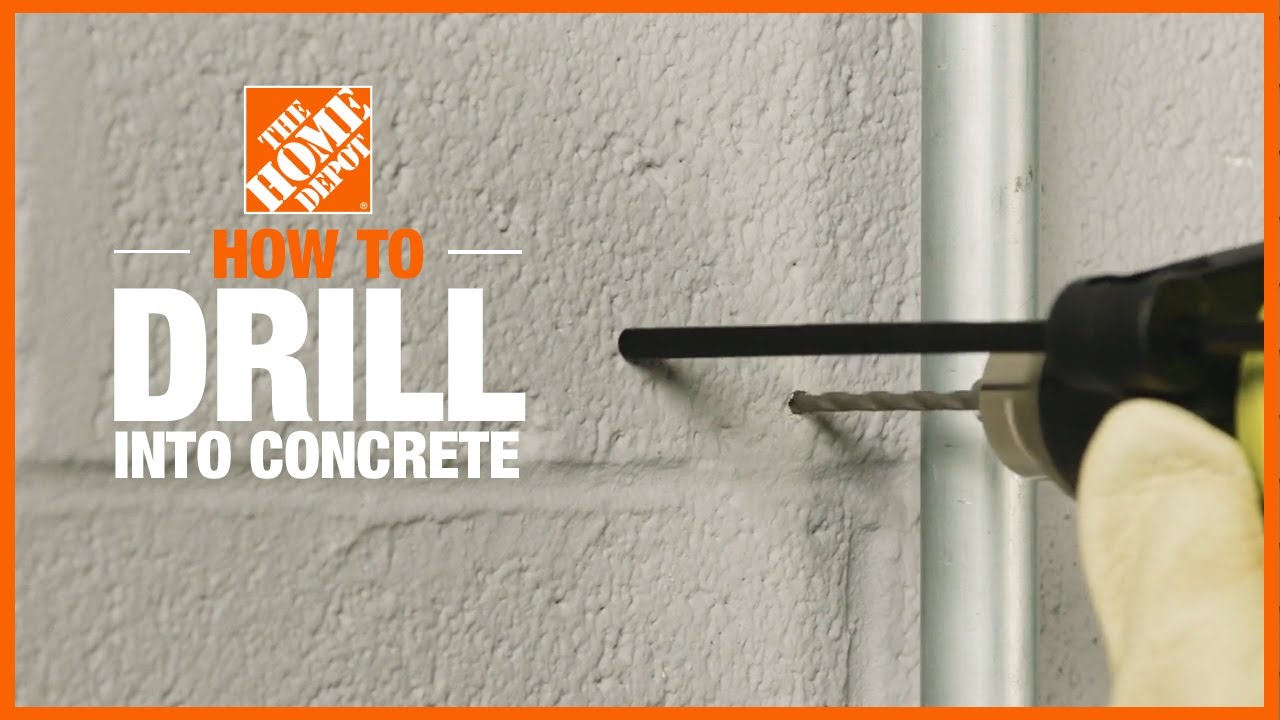 Final Thoughts
Acoustically treating your home studio doesn't have to be complicated or cost you a lot of money. Many of the best acoustic panels on the market today are budget-friendly and make a world of difference in your recordings and mixes.
Check out each of the recommendations on our list and find the right acoustic panels for your home studio.
RECOMMENDED FOR YOU
A home studio is only as good as its acoustic treatment. Anyone who produces music…
A home studio is only as good as its acoustic treatment. Anyone who produces music…
A home studio is only as good as its acoustic treatment. Anyone who produces music…