How To Cover a Popcorn Ceiling Without Removing It
By Gregory A Seely ~ Updated 14 November 2021
If you don't like your popcorn ceilings, you're not alone. Countless homeowners have chosen to cover popcorn texture and avoid the expense and mess of removing it.
Let's discuss how you can cover your popcorn ceiling without professional help.
Covering your popcorn ceiling is an excellent way to hide it if it contains a high level of asbestos. If you've had you ceiling tested and it comes back negative, our DIY popcorn ceiling removal guide may also be of interest to you.
Can You Cover a Popcorn Ceiling?
Many people choose to cover their popcorn ceilings instead of removing them. The removal process is messy and can come with the danger of airborne asbestos. Full removal can also be expensive, as it is usually performed by professionals.
Covering a popcorn ceiling is much more convenient. There are many coverage options that you can install yourself including wood planks, decorative ceiling tiles, skim coating, and drywall.
How to Make a Popcorn Ceiling Look Good
Popcorn ceilings are used because they are cheap and easy to install, but many homeowners do not like how they look in their homes. Here are some ways that you can solve this problem.
Removing a Popcorn Ceiling
Always check for asbestos before removing your popcorn ceiling. If it was installed before 1979, the texture most likely contains some percentage of this carcinogen. Any scraping will cause health risks.
If you have modern popcorn ceilings, you can remove them yourself, but you have to be ready for a big mess. Cover all surfaces with plastic drop cloths or completely remove the furniture.
Wet the ceiling with water to make it easier to remove. It should soften, which will allow you to scrape off the texture. You can use a mud pan to collect most of the falling texture as you work in small sections.
Hiding a Popcorn Ceiling
Full removal of popcorn ceilings can be labor-intensive, messy, and time-consuming. Because professional popcorn texture removal costs around $2,000, many homeowners simply choose to cover it up. You can do this in a few different ways.
Ideas to Hide/Cover Up Your Popcorn Ceiling
Shiplap
If you're looking to create a modern look for your home by getting rid of old popcorn ceilings, shiplap may be a great option. Wood planks are not just for floors, and more people have been applying them to ceilings because they look much better than popcorn texture.
A shiplap ceiling is timeless and can work with any interior design style. They are fairly easy to install and homeowners can avoid the messy process of removing popcorn ceilings.
You can find all the materials you need for the installation process at the nearest hardware store. Many people agree that this is the least difficult and most affordable option.
Decorative Ceiling Tiles
Another easy, affordable option for hiding a popcorn ceiling is decorative ceiling tiles. These tiles come in a variety of styles and textures so they can easily match the decor of your home. Instead of a cheap popcorn ceiling, tiles can make your ceiling design look intentional.
DecorativeCeilingTiles.net makes it easy to shop for tiles online. You can find any design you like, as their website provides different materials, sizes, colors, and styles. These are also affordable! The cheapest design goes for $2.49 a tile.
Covering your ceiling with tiles does require a lot of measuring and calculations. However, this website also has a Ceiling / Wall Tile Estimator that makes sure you order the correct amount of tiles.
Skim Coat
Applying a skim coat to a popcorn ceiling won't be completely smooth, but the new coat can be more pleasing to look at. Skim coating is normally found in older homes because it was popular before popcorn texture. Unlike popcorn ceilings, skim coats won't look dated.
For skim coating, apply quick-set drywall mud over popcorn texture. The joint compound should be thick so that it easily covers the old ceiling.
Drywall (Sheetrock)
You can add a second layer of drywall on top of popcorn ceilings to completely cover its texture. This can be a great option for people who want a more neutral look to their ceiling.
Once you install the drywall, there is a very smooth surface that is easy to paint. It will be much more aesthetically pleasing than popcorn texture.
However, this installation process is difficult, time-consuming, and expensive. Without professional help, people have problems finding the joists to screw the drywall into. Laying the drywall flat and making sure it is properly attached is something usually left to professionals.
Drywall lifts cost around $40 a day. A drywall sheet that is 4′ by 8′ can cost about $9. The cost of installation adds up quickly.
This process takes a great amount of time. It is extremely difficult to do this by yourself. Drywall can be heavy and bulky, especially when it is lifted overhead.
Even if you manage to complete this entire process with little difficulty, the drywall sheets add extra weight to the ceiling and may cause problems. The structure of the ceiling was not made to support two layers of drywall plus the popcorn ceiling. However, you can usually avoid long-term issues by properly fastening the drywall into the ceiling joists.
Easiest and Cheapest Way To Cover Popcorn Ceiling
Wood Planks Over Popcorn Ceiling
Using wood planks to cover popcorn ceiling texture is the easiest and most affordable option. Although the planks need to be screwed into joists, many people have successfully gone through this process by themselves.
It's easy to find all the materials you need at the nearest hardware store. You can choose from a variety of wood types to easily match the style of your home. This process is customizable to your interior decorating.
Can You Wallpaper Over Popcorn Ceiling?
To put up wallpaper, you need a smooth, clean surface. Popcorn ceilings are not ideal bases for wallpaper.
Since popcorn ceilings are very textured, the wallpaper will not adhere well. It may not stick properly to certain areas, which might cause it to flake or peel off. This would affect the popcorn texture underneath, too. When the wallpaper comes off, the popcorn ceiling could fall with it.
When you apply wallpaper to popcorn ceilings, it will show the popcorn texture underneath. This will be noticeable and not very aesthetic. Many other coverage options are effective and affordable, so stay away from wallpaper.
How To Cover Popcorn Ceiling Without Removing It
Covering Popcorn Ceiling With Wood Planks
If you are worried about the asbestos in your popcorn ceiling or just don't like the popcorn texture, you can cover them with wood planks. To do this, it's important to follow all these steps for the proper installation.
Because you are doing this repair yourself, you'll need to buy supplies. Here is everything you need to get started:
4′ by 8′ sanded plywood with 11/32nd-inch thickness
18 gauge brad nails
nail gun and air compressor
nickel floor spacer
paint
You'll need to measure your ceiling before going to the store. Then, have the wood cut into 6-inch strips. After this, follow these steps to cover the popcorn texture with wood planks.
Step one: Paint the strips of wood before you place them on the ceiling.
Step two: Line the wood planks on the ceiling, alternating rows with short and long pieces.
Step three: Attach the wood to the ceiling with your nail gun and air compressor.
Step four: You can use the nickel spacer in between each row to make them stand out. Don't worry, the popcorn ceiling texture won't show through.
Step five: Make sure to measure the start of the wood planks to the current plank after every few rows. You want to check that they are being applied evenly.
Step six: If you have light fixtures or smoke detectors, you can create a notch in the boards.
Step seven: You may have to cut the last plank to align evenly with the wall.
To see the application of this process, see Farmhouse on Boone below.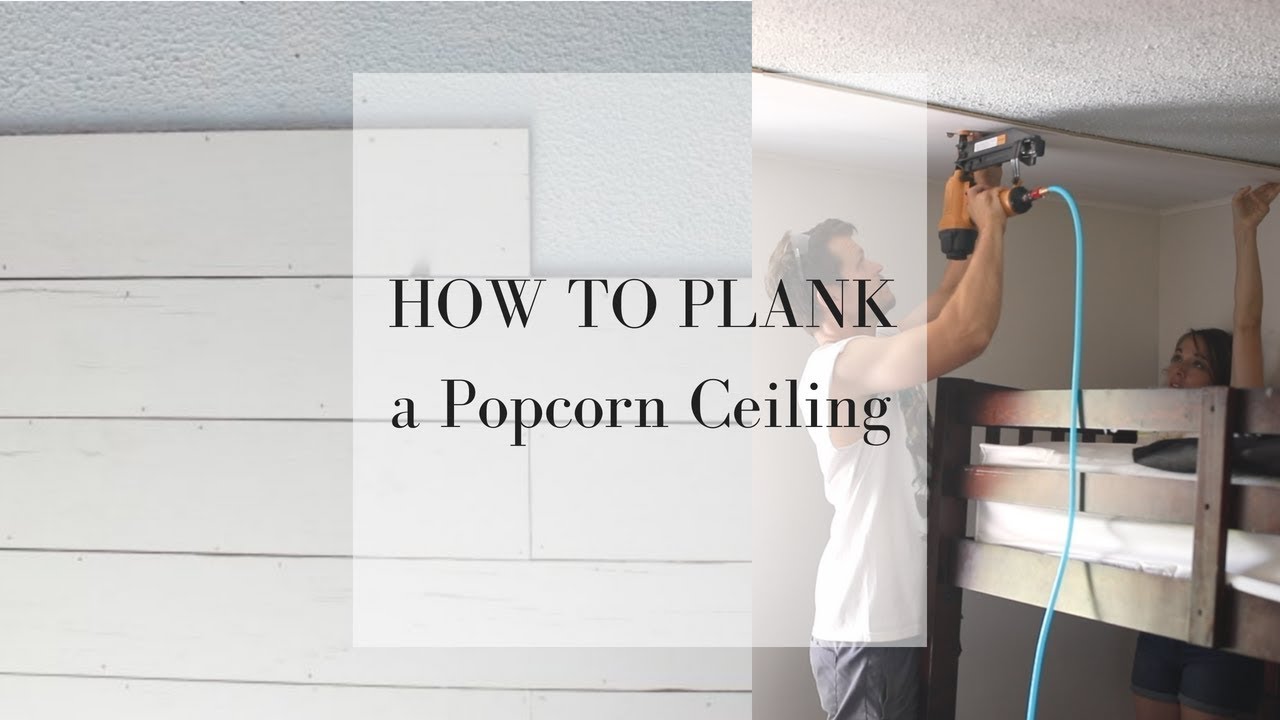 Covering Popcorn Ceiling With Decorative Styrofoam Tiles
Decorative ceiling tiles can easily cover popcorn ceilings and will add a nice touch to any room. It's a simple process to install, so we've listed all the steps to get started.
Step one: Shop online for decorative ceiling tiles. You can choose any pattern or style to best suit your home.
Step two: Measure your ceiling and order tiles. A standard ceiling tile is 20 inches by 20 inches.
Step three: Remove the light fixtures and ceiling vents from the room.
Step four: Find the center of your ceiling. This is where you will begin placing tiles. To do this, measure the length of the wall and mark the center point. Do this on all four walls.
Step five: Drive a nail into the ceiling aligned with that center point. Drive nails into all four points. Loop a chalk line around one nail, stretch the chalk line to the nail on the opposite wall and snap it. After doing this twice, this should make an X on the ceiling. The center of the ceiling is where they intersect.
Step six: Put a bottle of instant grab adhesive into a caulking gun. Apply the adhesive to the back of each tile by squeezing small dollops spaced six inches apart.
Step seven: Press the tile onto the ceiling, lining up the edges with the chalk line. Keep your hands flat when pressing the tile to avoid any dents.
Step eight: Align each tile along another's edges. You can set these tiles over lightboxes and ceiling vents and use a utility knife to cut an opening.
Step nine: Continue this process until you get to the border.
Step ten: Measure the distance from the last full tile to the edge of the ceiling. Make sure to measure in two places on the ceiling.
Step eleven: Measure and cut a tile to fit this space. Apply the border tiles to the ceiling.
Step twelve: Use a water-based latex painter's caulk to seal all the edges of the tiles. You can remove excess with a damp cloth.
To watch a step-by-step video of this process, see Decorative Ceiling Tiles. Inc below.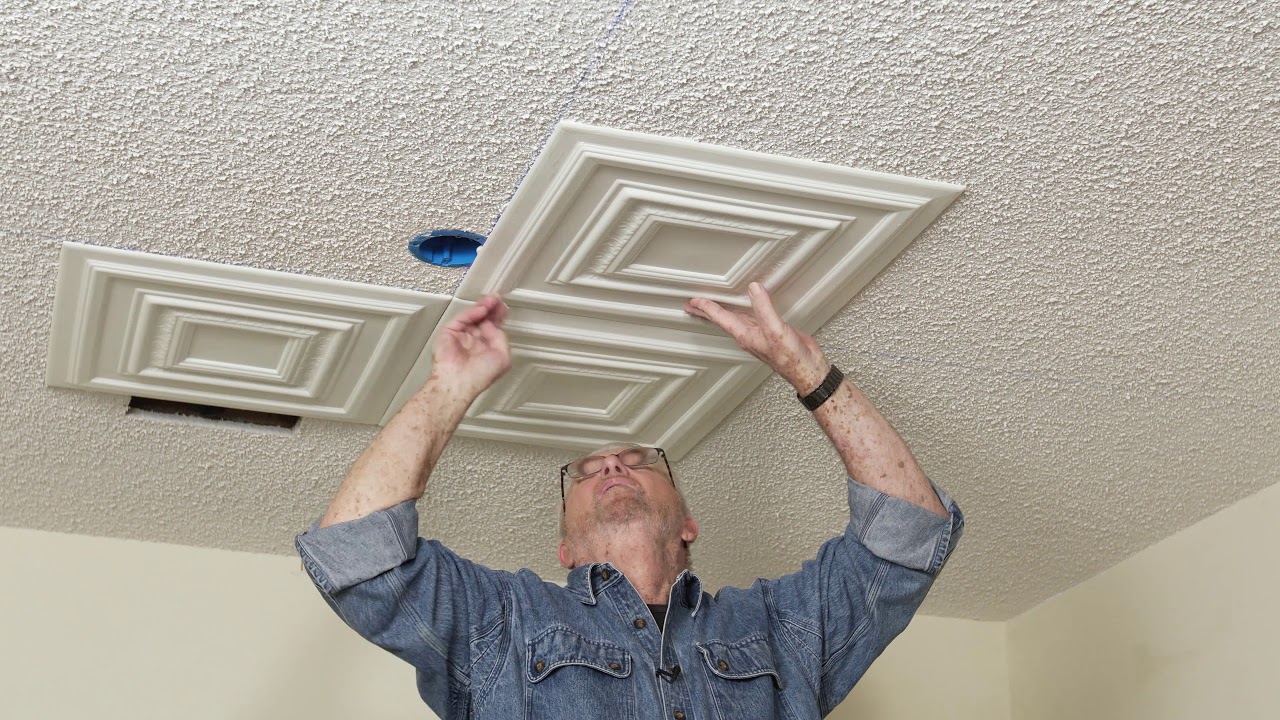 Covering Popcorn Ceiling With a Skim Coat
Instead of scraping off a popcorn ceiling, you could apply a skim coat. Here is everything you need to know about doing this without professional help.
Step one: Use a 14-inch drywall taping knife to apply joint compound to the ceiling. It should be a little thicker than if you were skim coating a smooth surface. Don't mix too much water into the mixture.
Step two: Wipe the surface of the ceiling to smooth out any bumps or air bubbles in the joint compound. Then go in the opposite direction to get rid of ridges.
Step three: Before your second coat of joint compound, use a drywall taping knife to scrape away any texture in your application.
Step four: Apply a second skim coat.
Step five: Let dry for 24 hours.
For a visual of a professional applying a skim coat, Paul Peck DrywallTube has a great series. He provides in-depth information about the best brand of joint compound and how to thin it with water – see below.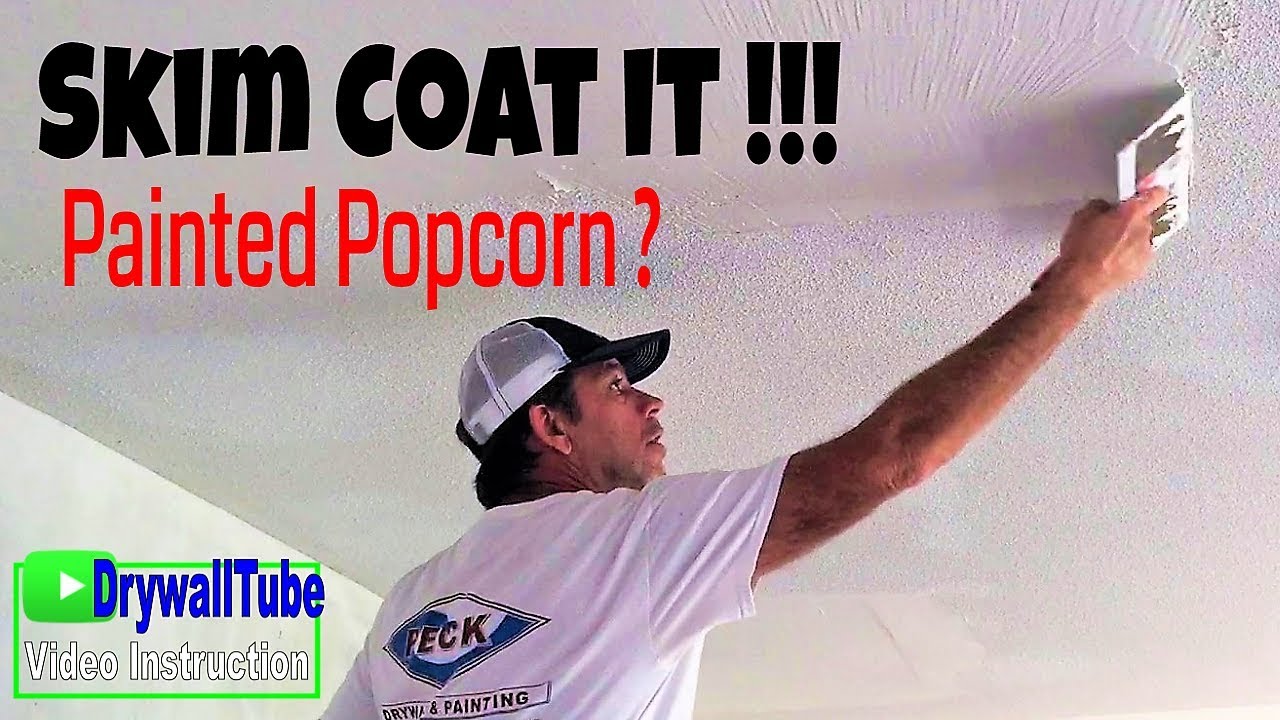 Covering Popcorn Ceiling With Drywall (Sheet Rock)
It's possible to cover the popcorn ceiling with another layer of drywall, or sheetrock, but there are some things to consider. 3/8 inch or 1/2 sheetrock is the best to use, although this will add weight to your ceiling. This could cause structural issues, so keep this in mind.
Another problem to consider is how the new drywall will attach to the popcorn ceiling. Normally, drywall is screwed tightly into a stud. Popcorn texture is softer, so screws might come out.
To screw new drywall over the popcorn texture, you'll need screws that are at least 2 inches long. These can be difficult to deal with because they tend to fold over and not screw in properly.
Drywall is also expensive. A 4′ by 8′ sheet costs about $9. You'll need quite a few sheets to cover your ceiling, so the cost adds up.
Step one: Turn off the power and remove light fixtures from the ceiling. Extend electrical boxes with a mud ring.
Step two: Use a stud finder to mark the centers of joists on the ceiling. This can be a difficult process that takes some time.
Step three: Grab a drywall lift and sheets of drywall. You can hang drywall without a lift, but it will be much more difficult. Cut the drywall to length, subtracting 1/4 inch for a gap along the walls.
Step four: Make marks on your drywall sheets to align with the ceiling joists. Professionals can eyeball this because they have more experience with laying drywall. You'll want to make precise markings so that every screw can go in properly.
Step four: Place each sheet, aligning them with the center of joists. Make sure that the seams between sheets are staggered. If you place four corners together, it will create a weak joint.
Step five: Use drywall screws to attach each sheet.
Step six: Using a mud pan filled with joint compound, take a drywall knife and apply joint compound to each seam. Press drywall tape over this.
Step seven: Apply joint compound to the gap between the walls and ceiling.
Step six: Paint the ceiling.
Final Thoughts
Many homeowners don't like their popcorn ceilings. They don't look great with any interior design and may even contain health hazards.
Luckily, there are plenty of options for covering the popcorn texture. Whether you choose to layer wood planks, decorative tiles, drywall, or a skim coat, you can easily improve the design of your home.
RECOMMENDED FOR YOU
If you don't like your popcorn ceilings, you're not alone. Countless homeowners have chosen to…
If you don't like your popcorn ceilings, you're not alone. Countless homeowners have chosen to…
If you don't like your popcorn ceilings, you're not alone. Countless homeowners have chosen to…