Foam Board for Soundproofing
By Gregory A Seely ~ Updated 18 November 2021
As an Amazon Associate I earn from qualifying purchases
Soundproofing can make a world of difference when it comes to eliminating distractions or getting a better quality sound.
Whether you're building a recording studio, a home theatre, an office space, or just want a quieter home, installing foam board is a great place to start. As an easy and affordable solution to rid your space of unwanted reverb and echoes, it can also add a layer of design to your room.
Today, we're going to cover the best foam boards for soundproofing, how to hang them, and how to determine the best position for them within your space.
Let's jump into it.
These soundproofing foam boards will work perfectly in most situations. If you have a home recording studio and need to take things to the next level, see our guide to the best acoustic panels for home studio.
Best Foam Boards for Soundproofing
Dekiru Acoustic Panels
You can count on the Dekiru acoustic panels to keep your space quieter while producing cleaner sounds. The panels work by breaking up the direction of sound waves that bounce off your walls and cause echoes and reverb.
Made from polyester fibers, the panels are both eco-friendly and flame retardant, making them safe for everyone in the family to use. They have a density level of 215kg/m3 and an NRC of 0.92, which effectively cuts back on sound and absorbs low-high range frequencies.
These panels are ideal for home studios, home theatres, and any room where you need to reduce the level of background noise.
Features
100% polyester fiber
High density (215kg/m3)
NRC: 0.92
Eco-friendly
Nine color options
We Like
Considerably less unwanted noise
They cut down on echoes
Looks good in any room
We Don't Like
Tricky to install without proper adhesive (Gorilla tape or putty work best)
Colors come in the wrong tones
Expensive for value
2. DEKIRU Acoustic Pads
These hexagon-shaped Dekiru acoustic pads are as much of a design element as they are practical at absorbing sound. With an NRC rating of 0.92, they effectively muffle unwanted noise and echoes.
These eco-friendly pads are 100% polyester, non-toxic, and free of formaldehyde and other VOCs. Meaning you can safely add them to any space without worrying about toxic fumes.
The acoustic pads are multipurpose, feature a stylish beveled edge, and are easy to install. Mix and match them to create the design you want for your home.
Features
100% polyester
NRC: 0.92
Eco-friendly
Four color options
Unique hexagon shape
We Like
Aesthetically pleasing
Reduce reverb and sound reflections
Tames mid-high frequencies
We Don't Like
Some tiles arrived with stains
Panels don't stick well to many adhesives
Inconsistent colors between packs
3. TroyStudio Acoustic Studio Absorption Panels
The TroyStudio acoustic panels are perfect for a home studio or vocal booth where controlling reverb and canceling echoes is essential. The unique periodic groove design enhances the absorption abilities of the panels, reducing unwanted noise and improving sound clarity.
Created from polyurethane, the panels are fire-resistant, eco-friendly, and easy to install. They come compressed for easy shipping; all you need to do is soak them in warm water for one minute, let them dry to decompress, and they're ready to hang.
Features
Polyurethane
NRC: 0.75
Eco-friendly
Five color options
Periodic groove structure
We Like
Absorb higher frequencies
Reduces echo
Good value for money
We Don't Like
Chemical smell
Some edges come warped out of the package
Long process to decompress them
4. JBER 12 Pack Acoustic Foam Panels
If your goal is to spot treat a small area or cover an entire wall in your home or studio, the JBER acoustic panels are a perfect choice. These panels are an all-around effective way to reduce reverb, cancel echoes and deaden external noises in small to medium-sized rooms.
Each tile is one square foot, one inch thick, and is consistent in its density and firmness to optimize its sound absorption capabilities. These panels are instrumental in home studios where you need quality recordings with no background noise interference.
Features
Polyurethane foam
Easy shape and cut
12 pack
Three color options
Wedge-shaped
We Like
Great value
Effectively absorbs reverb and echoes
Bold color options for designing your space
We Don't Like
Not as effective in larger rooms
They don't stick to many adhesives
Some panels are still thin after letting them decompress
Best Double Sided Tape for Acoustic Foam
Command Strips
As the go-to brand for mounting anything on your walls, Command strips should be your first choice when you need to hang your acoustic foam board. They're effortless to use and create a firm hold on a variety of indoor surfaces. The best part is that they don't leave any damage behind if you want to rearrange your foam panels.
Pro Tip: For better adhesion, first connect your foam board to a thin piece of cardboard and use the command strips to attach those to your walls.
Best Placement for Your Foam Boards
Equally as important as the quality of your foam board is the placement of them around your room. Too often, people go overboard with acoustic foam or place them without any strategy, and this can actually result in worse sound quality.
Watch the video below to help you determine the best placement for your foam boards.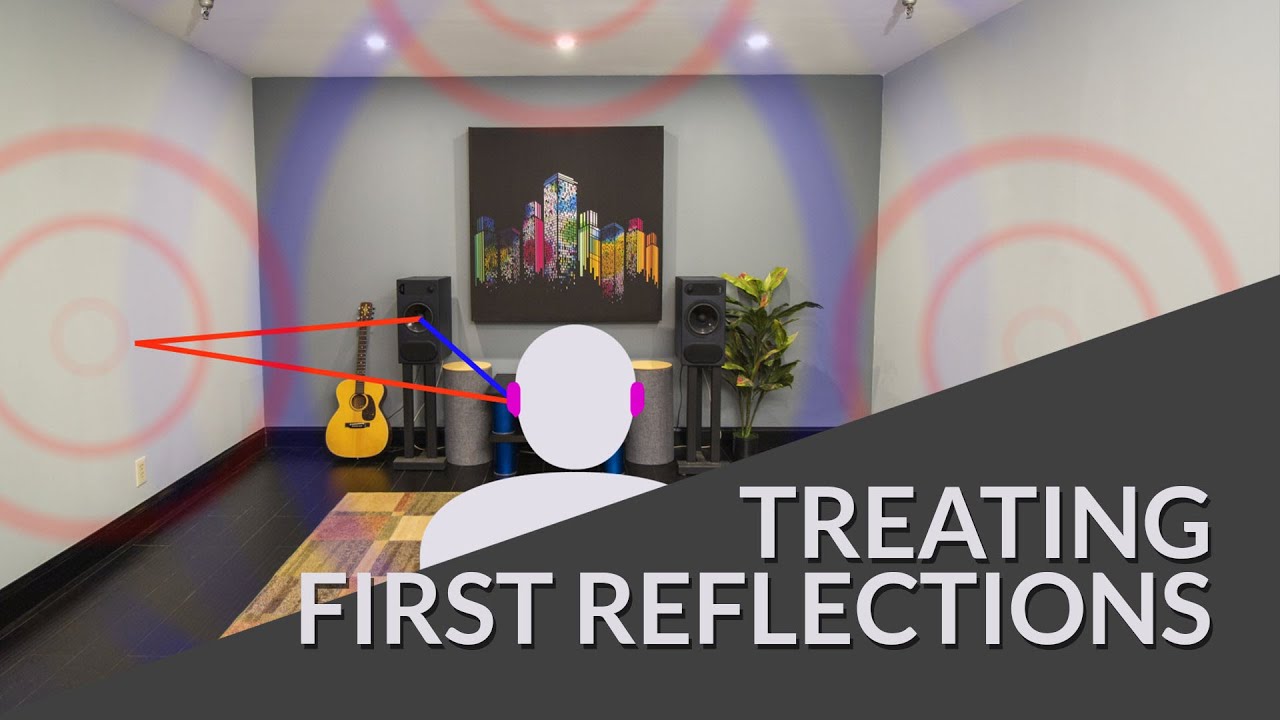 Final Thoughts
Adding acoustic foam board to a room will improve sound clarity, muffle external noises and help produce quality recordings. And now that you're aware of some of the best options for foam boards, how to attach them, and where to place them in your room, you're ready to take action!
Let us know how these foam boards worked for you, and be sure to check out our blog for more soundproofing resources.
RECOMMENDED FOR YOU
Soundproofing can make a world of difference when it comes to eliminating distractions or getting…
Soundproofing can make a world of difference when it comes to eliminating distractions or getting…
Soundproofing can make a world of difference when it comes to eliminating distractions or getting…