12 Ways to Soundproof an Apartment Door
By Gregory A Seely ~ Updated 14 November 2021
Living in an apartment has many advantages, but the amount of noise is not one of them. A building with so many residents is bound to be a bit loud at times, from people doing laundry to doors slamming in the hallways.
Before you decide to pack up all your belongings and hit the road, we have an easy and simple solution for you. Soundproof your front door.
It'll make a significant difference in blocking out unwanted sounds from noisy neighbors.
I won't keep you waiting; let's dive into 12 ways to soundproof your apartment door.
Control the Air Movement
Start by looking at the perimeter of your door for gaps. If you're having trouble seeing them, turn the lights off in your apartment and see if you can see the lights from the hallway.
The largest gaps will let the most sound in, but even minor ones will cause trouble. Keep this in mind when you're soundproofing, and you'll get much better results.
How to Soundproof an Apartment Door
1. Seal Internal Gaps With Insulation Spray (If Possible)
Great Stuff's insulation spray is the ideal choice for filling the gaps behind door frames. The low-pressure formula won't bow or bend your frame but expands enough to create an airtight and water-resistant seal.
Once the foam has cured, it's flexible, so you're still able to shape it if needed. If you've accidentally filled too much of an area, it's easily removable using a utility knife.
Not only will this spray help with soundproofing, but it's also insulating. It'll keep the warm air in during the winter and the cool air in the summer, meaning you save on your energy bills.
Features
Minimal expanding
Low-pressure formula
Water-resistant
Flexible
Easily removed if overfilled
We Like
Expands to fill all gaps
Great price
Easy to use
2. Seal All External Gaps With Acoustical Caulk
TMS's high-quality acoustic caulk can effectively block sound, wind drafts, and smoke from getting into your apartment. It's specially formulated to meet ASTM-E90, E84, C834, and C919 standards.
This acoustical caulk is latex-based, so you can paint it after if needed. It adheres to most surfaces, including wood, drywall, plaster, concrete, steel, etc. It provides a long-lasting seal that has some flexibility making it a superior choice for sealing gaps in your door frame.
Features
Made in the USA
Latex-based
Specially formulated for sound leak protection
Adheres to all types of surfaces
Covers 50LF
We Like
Good consistency, not too thick or thin
More affordable than other sealing compounds
It cuts down on noise
3. Install a Sturdy Door Sweep (Inside)
Installing a heavy-duty door sweep in your apartment is the most efficient way to block the gaps along the bottom of your door. Not only will this help with sound reduction, but it also stops drafts, dust, and bugs from entering your apartment.
M-D Building Products door sweep is commercial-grade but is also suitable for residential homes for doors up to 36″ wide. It will last you for years, even in high-traffic areas.
Features
UL rated
Fasteners included
It fits doors up to 36″ wide
Heavy-duty rubber and aluminum
Commercial grade
We Like
Easy to cut if needed
Effectively stops cold drafts
Easy to install
4. Install a Weatherproof Rubber Seal Strip (Outside)
Like a door sweep on the inside, a weatherproof rubber strip is the best way to seal gaps in the bottom of your door on the outside. The tight seal will block external noise and prevent dust from entering your home. The seal is also insulating, which is an energy saver for homeowners.
The EPDM rubber strip is 10′ long and 3.5″ wide, allowing you to cut it to whatever size you need for your door. It's flexible and durable and can withstand a significant amount of foot traffic.
Features
EPDM rubber
Anti-slip texture
Bright yellow safety strip for visibility
10ft long
Weatherproof
We Like
Durable and heavy material
Effectively seals gaps outside of your door
Great value
5. Install Weather Stripping
Weatherstripping takes care of the rest of the gaps along the perimeter of your door. It comes with two 33ft rolls of D-type seal strip, suitable for openings ranging from 5mm-7mm.
With strong adhesive backing, the strip is great at reducing noise from outside and prevents dust from moving in. You can easily cut it to the length you need for your doors or windows too.
Weatherstripping also helps protect your door from wear and tear while opening and closing. It has excellent aging resistance, so you can enjoy a quieter home for years to come.
Features
Two rolls D type window seal (33ft each)
Fills gaps 5mm – 7mm
Adhesive backing
Soundproof
Dustproof
We Like
Easy to install
Great price
Good seal for sound reduction
6. Install Hydraulic Auto Door-Closer
A hydraulic door closer controls the opening and closing speed of the door. It's also built to ensure that the door is closed securely, which helps form a better seal for sound reduction.
The ADC12 aluminum has a solid and sturdy build, making it ideal for both wood and metal doors up to 144 lbs. The multi-purpose design also allows you to install it on doors that close to the left or right.
The hydraulic door closer is easy to install with a fitting template and detailed guide. It comes with all the hardware you'll need in one box.
Features
High-quality aluminum (ADC12)
Closes left or right
Installs into wood or metal
Adjust opening force and closing speed
Smooth and secure closure
We Like
Effectively stops doors from slamming
Great value for money
Quality hardware
7. Install a Layer of Mass Loaded Vinyl (MLV)
Mass-loaded vinyl is talked about a lot in soundproofing, and for a good reason. It's highly effective at absorbing sound and doesn't have to break the bank to create a quieter space.
TMS's soundproof padding comes in three different sizes, depending on how much you need. The sheets are made in the USA with virgin material to avoid the accidental use of dangerous chemicals. The vinyl weighs 1lbs per square foot, is 1/8″ thick, and has an STC rating of 27.
Highly adaptable to all your needs, the mass-loaded vinyl can be attached to the back of your door. Atlerntavitely, you can install a metal frame around the door and connect the MLV to that with industrial magnets, effectively blocking the entire door and reducing noise.
Features
Multiple sizes available (16sq.ft, 40sq.ft, 100sq.ft)
Sound absorbing
Made in the USA
Contain no dangerous chemical
No re-grinded or recycled material
We Like
Little to no odor
Good sound absorption across multiple frequencies
Cuts easily for custom sizing
8. Install a Sound Absorption Sheet
Hanging an Audimute dampening blanket over your door will absorb an average of 85% of sound waves that come in contact with the blanket. Effectively reducing the echo and reverberation bouncing around your apartment.
This sound absorption blanket is made with eco-C tex material that uses less energy to produce and is safe for your health. It's non-toxic, non-carcinogenic, and contains no fiberglass.
Features
Sound absorbing
Non-toxic
Eco-C tex material (a blend of recycled cotton & cellulose fibers)
Five color options
Each sheet is 8ft x4.5ft
We Like
Works well to muffles sounds
Heavy, quality material
Easy to hang
9. Install a Soundproof Panel
If you're serious about soundproofing your apartment, the TradeMark Soundproof door panel is the way to go. The panel is made from sound barrier and sound absorption materials, making it unmatched in its soundproofing abilities.
The panel is custom-fitted and applied using strong velcro, making it easy to install on any door. You can choose from four neutral color options so it won't look out of place in your apartment.
Features
Four color choices
Custom sizing
Made from sound barrier and sound absorption material
STC rating of 29
Durable and flexible
We Like
Very effective at reducing sound
Enhances other soundproofing components
It also blocks out light
10. Install Blackout Curtains
Blackout curtains are not only effective for keeping the sun out, but the material is often also great at absorbing sound.
The NICETOWN thermal curtains are among the highest-rated curtains on the market, being affordable and made with high-quality materials. They're made using two layers of triple-weave polyester and can absorb two times more sound than your average one-layer curtain.
Beyond muffling noise and blocking out light, they are thermally insulated, balancing your room temperature and cutting down on energy costs.
Features
Two layers of triple-weave polyester
Blackout effect
Absorbs noise
Balances room temperature
24 color choices
We Like
Great value for the price
Muffles outside sounds
Improves energy-efficiency
11. DIY Floor to Ceiling Plug
For the avid DIYer, you can create your own sound barrier for less than $50.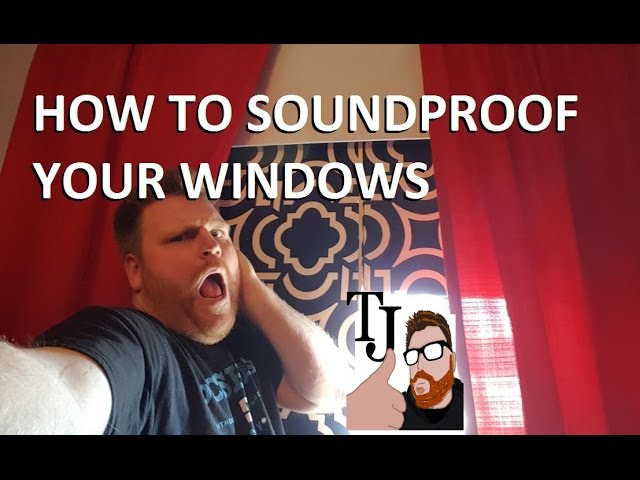 12. Upgrade to a Solid Core Door
It's common for interior doors to have a hollow core, which is great for making them lighter and more affordable. But you sacrifice when it comes to blocking out exterior noises.
A solid core door is much better at absorbing sound because of its density. These doors range from expensive hardwood to MDF which is for budget-friendly homeowners.
Final Thoughts
There's a lot of options out there for soundproofing your apartment door. The real trick to effectively blocking out unwanted noise is to use multiple different methods.
Each one of these options on our list may not block out 100% of the sound, but combine a few, and you're well on your way to a quiet, comfortable home.
RECOMMENDED FOR YOU
Living in an apartment has many advantages, but the amount of noise is not one…
Living in an apartment has many advantages, but the amount of noise is not one…
Living in an apartment has many advantages, but the amount of noise is not one…